Certifications and services
when buying a home peace of mind is priceless…
Weatherstone Property Inspections
, LLC provides a unique and valuable service for prospective homeowners and investors
.
We offer an unbiased opinion on every property we inspect and report objectively in clear and understandable language. Our photo slide show and review at the completion of each inspection not only helps you in making an informed, educated decisions, but also provides peace of mind while tackling one of life's biggest decisions.
Weatherstone
is an independent inspection company watching out for the interests of the homebuyer. With each and every home inspection we follow the standards and practices of the
National Association of Certified Home Inspectors
(NACHI) and that insures you a professional, competent inspection covering all your bases!
We offer a variety of inspections tailored to meet your specific needs; whether you are buying, selling or just educating yourself about your own home. The standard home inspections is a non-invasive, visual inspection usually lasting about 2 to 3 hours depending on the home's age and square footage. We recommend that you be present at your home inspection so that you can ask your inspector any questions or to look at any areas needing maintenance or repairs.
Please take the time to look through our website. There is a wealth of information in this site to help you better understand properties and home inspections. We hope this information will be useful to you! Consumers and real estate professionals should expect no less than full professionalism, education, competence, knowledge and courtesy from a Weatherstone Property certified home inspector.
We are certified in virtually every type of residential and commercial home inspection. Whether you are a buyer, seller, real estate agent or property manager, you can count on us for all of your building inspection needs.
http://weatherstoneinspections.com/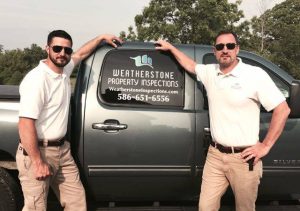 Contact Info
Weatherstone Inspections
33681 Pratt Rd.
Richmond, MI 48062
(586) 651-6556